Vertical advertising machine
Vertical advertising machine is used in high-end automobile shopping malls
Date: 2022-12-20
Click:108
Source:Lcdkiosk
As a high-end car 4S store, static and dynamic video promotion is indispensable. Using LCD advertising machine, it can display the cool promotional video and picture information of the car at the same time, creating an atmospheric product image.
As a high-end and high-end marketing center, the LCD advertising machine is a must-have product, which is convenient for customers to inquire about their favorite vehicles, specifications, technical parameters and other related information.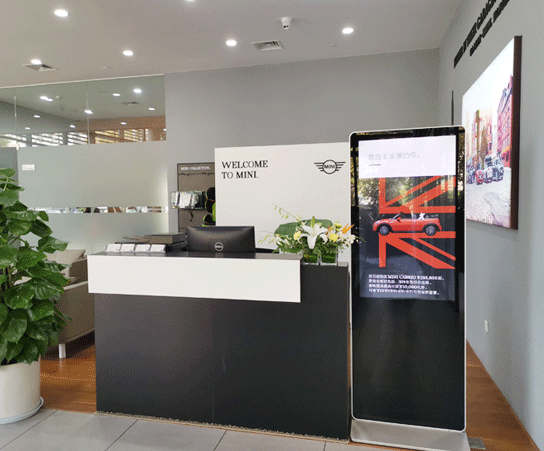 Next to each exhibit car displayed in the automobile 4S store, there will be an information release system touch query all-in-one machine. The display of the touch query all-in-one machine includes the dynamic advertising video of the car and the structure of the car, and dissects the assembly of each unit through animation, such as: the technical description of the car engine engine, the technical parameters and working principle shown , power value, torque value, and peak speed value, making a systematic and all-round expression for the car engine. Customers can also self-inquire the car information they need to know by touching the query all-in-one machine, so that customers are more interested in understanding the technology of the car.
The touch inquiry all-in-one machine nextto the exhibition car in the automobile 4S shop brings it an all-round display of digital video. It is the most favorable spokesperson for the automobile, escorts the exhibition car, and is a think-tank helper for customers to understand the car more comprehensively. It has fast response speed, anti-glare, driver-free, plug-and-play excellent performance, and can support handwriting recognition input very smoothly.