Application of industrial explosion-proof display
Date: 2023-03-21 22:00:00
Click:81
Source:Lcdkiosk
Inflammable and explosive areas of industrial explosion-proof displays in the various processes of experiment, production, processing, transportation and storage, often may leak and leak out various flammable and explosive gases, liquids and all kinds of dust and fibers. After mixing these substances with air, they will become explosive dangerous mixtures, and the places around them will become explosive dangerous places of different levels. When the concentration of explosive material reaches the critical point of explosion, once the detonating source -- electric spark, arc and high temperature will produce explosion, fire and other serious accidents, resulting in casualties and property losses. It is not only suitable for industrial automation, motion control, CNC machine tools, testing equipment, electrical cabinets and other industrial application scenarios, but also can be extended to military, aerospace, telecommunications, electric power, metallurgy, transportation, railway, communication, finance, network, medical, security and other application scenarios. Explosion-proof industrial plate can be used in coal mines, mining petroleum, chemical and other flammable and explosive places of digital equipment.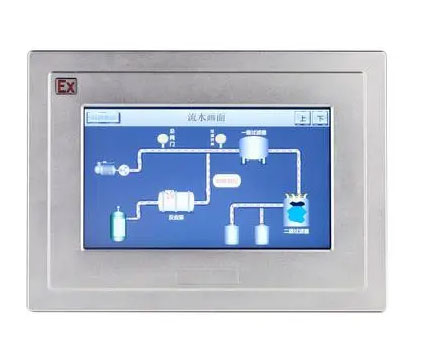 Specification of explosion-proof displays for industrial use
1. industrial explosion-proof display, industrial display through the double experience of vision and touch, well reflects the working state of equipment and process, in the enterprise operator plays an indispensable role. Aluminum alloy/titanium metal shell structure, not only strong and durable, but also can achieve fire and dust protection performance, heat dissipation performance is stronger; With the advent of Industry 4.0, emerging technologies will gradually replace traditional industrial control technologies. On the other hand, with the arrival of industry 4.0, at the same time, touch control intelligent OEM industry display product characteristics: fuselage using sheet metal plate; Independent research and development of industrial driving board; Heavy/rear cover eight row circulation cooling hole; Anti-interference/stable performance, optional desktop, support for custom services.
2. Industrial explosion-proof display In industrial application scenarios, industrial PC category includes industrial all-in-one PC, industrial Android all-in-one PC, industrial display and other categories, among which industrial all-in-one PC has industrial tablet computer, industrial tablet all-in-one PC, industrial touch control all-in-one PC and other nicknames. Touch intelligent second generation industrial display product features: on the basis of the first generation, the body uses aluminum alloy material; Lightweight/fully enclosed design; Industrial IP65 dustproof and waterproof grade; Optional embedded, touch intelligent third generation industrial display product features: embedded waterproof edge, universal environment, touch intelligent fourth generation industrial display product features: on the basis of the third generation, fully closed dust-free fan design, thin fashion, thin and narrow 10mm thickness of the circular aluminum alloy frame; The arc front panel design is exquisite, safe and not easy to scratch; Appearance upgrade rounded corner narrow frame, protection upgrade plate seamless design, heat dissipation upgrade completely closed without fan design, key upgrade key setting, configuration upgrade configuration independent research and development of industrial motherboard.
3. industrial explosion-proof display, rounded narrow frame, back buckle panel, exquisite circular arc side, waterproof horn hole, anti-impact panel.